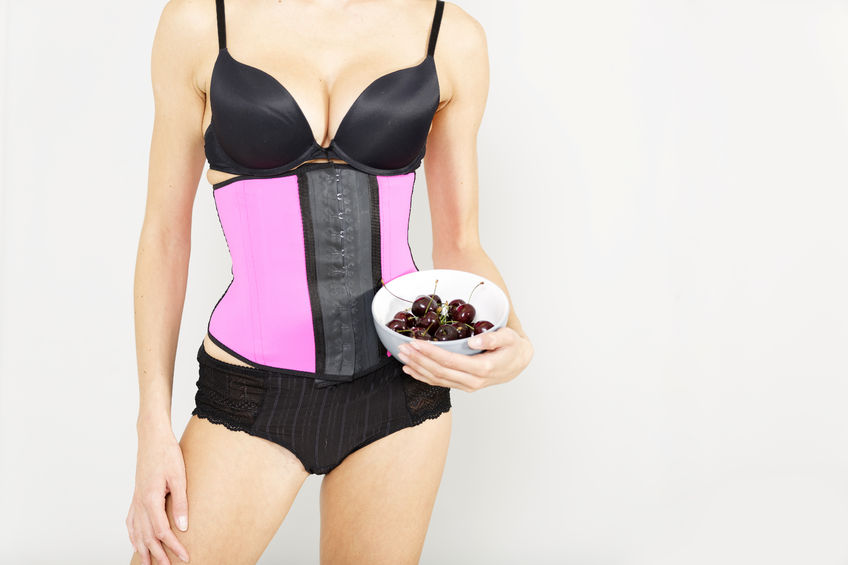 Waist cinchers are a type of corset, which have traditionally and continue to be used for foundation and fashion, as well as for medical, erotic, practical and fun reasons. When used under clothing, the purpose is to define a figure's silhouette by creating a smaller waist. The waist cincher pulls in the sides and flattens the stomach.
Modern women are using cinchers in all their waist training. Waist training is a process of reducing the natural size of the waist, accentuating the hips and creating curves. Often, the result is almost exaggerated.
What follows is a comprehensive compilation of information about cinchers. You're going to find waist cincher reviews and how to choose the best waist cincher.
Weight cinchers are used to constrict the waist and make it significantly smaller. They create the ideal hourglass figure that many women desire. These garments were once common, worn by all women in civilized society. Today, they are again popular because of the latest safe designs and a growing popularity among celebrities endorsing them publicly.
Good waist cincher is made of latex, guaranteeing a smooth, tight and defined application to the torso, but they are also designed from cotton and with hook and eye closures. Running from just under the breasts to above the hip line, the cincher wraps around the waist. It usually clasps or laces up the front, but can also be set up in the back. By tightening these forms of best corsets, you compress the midsection.
The process "trains" the waist to be slimmer. The best waist training cinchers will create a slimmer waist quickly. It is commonly known that once the device is in place, your waist size immediately decreases. The cincher can be used for the short- or long-term, depending on your goals.
Considering the dramatic impact it can have on your physique, users need to know how to responsibly use a cincher. You should also be aware that cinchers are not magic and the process can be expedited with cardio, ab exercises and a sound diet.
Top 10 Best Waist Cincher Reviews
Waist Trainer and Shaper by Ann Chery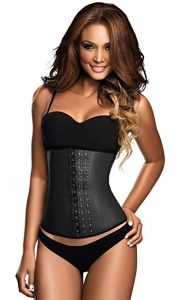 The Waist Trainer and Shaper by Ann Chery is a sexy black cincher. This best corset for waist training shapes the body without the restrictive movement or breathing associated with corsets. Promising to smooth and sculpt right away, it's made of latex and a cotton lining that protects the skin while providing freshness and comfort. The three hook belt allows complete control of compression.
PROS
This cincher has a cotton lining to prevent rubbing against its latex material.
The device helps shape the body without constriction or suffocation.
The product is safe enough for everyday use.
The manufacturer is renowned for producing the best waist training corsets available.
CONS
Customers have said the product can create rolls based on body movement.
After a short period of use, the cincher begins to mold.
Knock offs of this Ann Chery product have been shipped.
Overall Value for the Money
Users have been shocked at the difference in appearance in their clothes with the Waist Trainer and Shaper by Ann Chery in place. It sculpts and shapes the waist instantly and will gradually train the torso to stay that way. The product is also among top waist cincher reviews as an aid in weight loss.
Squeem "Perfect Waist" Firm Compression Waist Cincher Shapewear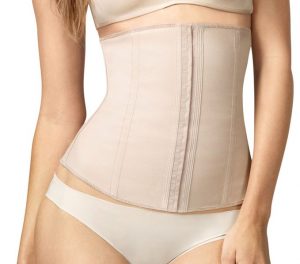 For one of the the best waist cinchers, the Squeem "Perfect Waist" Firm Compression Waist Cincher Shapewear is functional and discreet. Alongside a moderate breast lift, it slims the waistline and creates perfect curves. Expect sensual and sophisticated lines and an elongated midsection. Inspired by Brazilian fashion, this device provides back support and improves posture. This product stands out among best tummy control shapewear reviews for an internal boning system that minimizes annoying garment roll up.
PROS
The engineering smooths the midsection and carefully emphasizes natural curves with clean lines.
It delivers exceptional posture correction and outstanding back support.
With a wide size range, the product has a fit for every body type.
The design is ideal for off-the-shoulder tops, strapless dresses and summer wear.
CONS
There are issues with fitting that includes bunching, squeezing and painful pressing against the rib cage.
Customers have complained the corset has left blisters along the waist.
Despite proper use, the Squeem cincher has fallen apart within weeks.
Overall Value for the Money
The Squeem does exactly what it promises. From post-pregnancy to fitting into a wedding dress, the Squeem "Perfect Waist" Firm Compression Waist Cincher Shapewear works.
Lover-Beauty Women's Latex Underbust Corset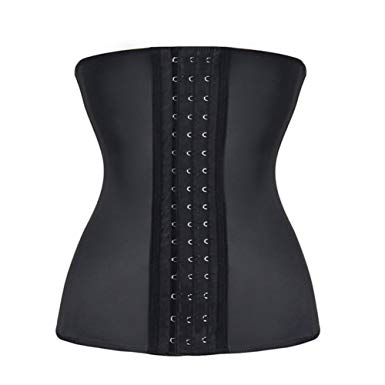 The Lover-Beauty Women's Latex Underbust Corset offers high compression, reducing the waistline up to three inches immediately. It's a great option for daily wear and for maximizing jogging, Pilates and everything in between. The corset will boost thermal activity and provide a gentle underbust lift. With its mesh engineering, it's a breathable option with a cotton lining that absorbs sweat. The hook-eye closures ensure a secure fit and alluring curves.
PROS
This device is an excellent choice for a rapid post-pregnancy recovery.
The three rows of hook and eye closures manage a tight fit.
CONS
The seams come apart easily.
The underwire has given out after a single wear.
Overall Value for the Money
The Lover-Beauty Women's Latex Underbust Corset pulls together well and one look in the mirror shows instant results. This is the top waist cincher for weight loss and will repeatedly impress.
Women's Waist Trainer Vest for Weight Loss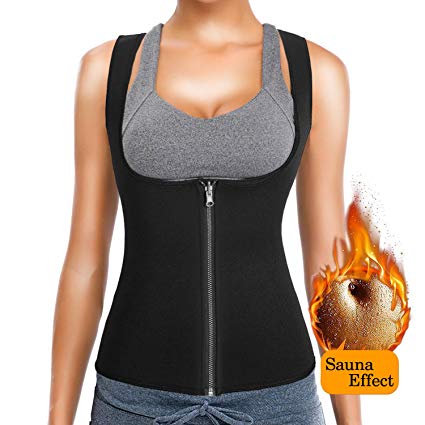 With the Women's Waist Trainer Vest for Weight Loss, expect a seven spiral felixboning system that's durable and multi-functioning. Designed to be soft to the skin, it's strong enough as a good waist cincher to support posture and maximize the shrinking of the midsection. It has seamless shaping and leaves no trace that it's under your clothes.
PROS
Have complete control of moving fat, sculpting the waist or focusing on the abdomen with this product's advanced features.
This corset stimulates thermal activity during workouts, helping to burn calories and fat.
For breathability, the device has adjustable buttons and ventilation holes.
Sturdy and lightweight, this corset has six rows of closures, providing greater management of the fit.
CONS
The size of these cinchers are not true.
Overall Value for the Money
Putting the Women's Waist Trainer Vest for Weight Loss into your cart is guaranteeing you own a quality product. Among our waist cincher reviews, it stands out for its comfort, design and return on the investment.
Varsbaby Women's Firm Waist Trainer Shapewear Vest
The Varsbaby Women's Firm Waist Trainer Shapewear Vest is a poly/cotton blend with six rows of hook and eye closures for a better fit. The wider shoulder straps promise to stay in place and assures you of no unsightly bulges under clothes. Its design is ideal for every and all day wear. The material is lacey but not itchy. With this waist trainer in your wardrobe, expect more efficient workouts, greater weight loss and a boost in confidence about your appearance.
PROS
Six rows of hook and eye closures will be instrumental in managing the right fit.
The adjustable and wider shoulder straps have been designed for stay-in-place functionality.
The device is excellent for all day and everyday wear.
This workout waist cincher comes in a broad range of sizes based on weight and waist diameters.
CONS
Many users suggest ordering a size up.
Overall Value for the Money
Our corset reviews didn't get far before we came across the Varsbaby Women's Firm Waist Trainer Shapewear Vest. Its size chart guarantees a nice fit and the product provides safe, daily control.
Ursexyly Double Control Waist Trainer Corset
The Ursexyly Double Control Waist Trainer Corset is a hook and eye workout shaper. Its design is a breathable cotton fabric and durable latex. Offering a high level of compression, it's perfect for pregnant women in support of post-partum tummy control. The waist trainer will also serve well in running and other strenuous activity, enhancing fat burning.
The corset is a perfect waist cincher with a four piece spiral steel bone structure, four rows of hooks and eyes, and an utter layer of durable latex.
PROS
The latex corset offers high compression that's great for pregnant tummy control post-partum.
With material soft as plastic bones, users are ensured of easy bending and quick recovery to origin.
The device will increase body heat while removing excess sweat and water weight during exercise.
The cincher offers extensive core muscle protection, supporting the abdomen and back, especially during exercise.
CONS
No cons for this product.
Overall Value for the Money
The Ursexyly Double Control Waist Trainer Corset is a highly regarded cincher doing exactly as its manufacturer promises. You will see an immediate and better shape upon wear. As you also lose weight, you'll love how you look.
Camellias 26 Steel Boned Heavy Duty Waist Trainer Corset Shaper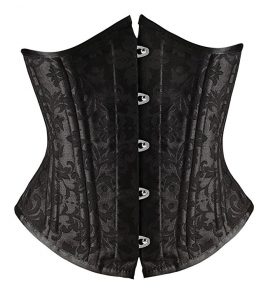 Built to make it to the top of corset waist trainer reviews, the Camellias 26 Steel Boned Heavy Duty Waist Trainer Corset Shapera has four layers of fabric: two inner layers of cotton, a laminated middle layer and outer layer to maximize the corset's strength and protection. It fits medium and long torsos. The device is also excellent for waist training during Pilates, yoga, running or weightlifting.
PROS
An excellent option for the active woman who can use the lumbar and back support.
This is a great resource for both waist slimming and weight loss.
The device has a bone structure consisting of 26 steel pieces: 20 spiral bones, four rigid support bars for the back and two bars adjacent to the front busk.
This specific corset is an option for Gothic, steampunk and Halloween cosplay.
CONS
The corset falls apart easily, including ripped fabric and seams, poked bones, hooks breaking and peeled coating.
Customer service is said to be non-responsive.
Overall Value for the Money
The Camellias 26 Steel Boned Heavy Duty Waist Trainer Corset Shaper is one of the best type of waist trainers your money can buy. Bendable, flexible and ready for heavy duty waist training, this device is exceptional shapewear.
NOTE: There is also a version for women with short torsos here.
Hourglass Fashion Corset Waist Cincher
The hourglass Fashion Corset Waist Cincher is being called the best waist trimmer in a number of waist training corset reviews. Many users have reported seeing belly fat quickly melt away as a result of using this corset while training. This is because the device increases blood flow and body heat, encouraging ideal fat burning conditions.
PROS
This waist trainer offers superior support and comfort.
For a snug feel, the corset's inner layer is made of 100 percent premium grade cotton.
The reinforced wire boning assures the device will never lose its shape despite any amount of stress.
CONS
Users have complained the device completely stretched out after only a few wears.
Company measurements do not appear to be true to size.
Overall Value for the Money
With the hourglass Fashion Corset Waist Cincher, you will be getting one of the best waist shapers out there. You'll see a tremendous difference in your waistline as well as dynamic changes in your workouts.
SHAPERQUEEN 1010 Women's Best Waist Cincher Girdle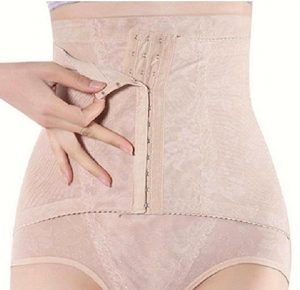 The SHAPERQUEEN 1010 Women's Best Waist Cincher Girdle is exceptional belly trainer corset body shapewear. Getting high marks in corset training reviews, this device has reliable cinching via a three hook and eye system, and a high waist design with firm control targets that reduce the waistline. The sturdy boning system minimizes rolling. This belly trimmer fits under any style of clothes and promises no revealing lines. It also offers outstanding post-partum and post-pregnancy support and compression for getting back in shape. The device is breathable, comfortable and antibacterial.
PROS
The quality breathable fabric offers comfort for all day, sweat free comfort.
The SHAPERQUEEN 1010 relieves lower back pain and supports the midsection and back in improved posture.
The easy open bottom with its three hooks will make using the bathroom easy.
CONS
It's been said this product provides little stomach support.
There have been reports this device isn't comfortable enough for everyday wear.
The product is said to look nothing like the promotional images.e any amount of stress.
Overall Value for the Money
The SHAPERQUEEN 1010 Women's Waist Cincher Girdle comes up often in the best shapewear reviews for its slimming power, its back and midsection support, and its sweat free, moisture wicking, antibacterial properties and its ability to create the ultimate feminine silhouette.
lttcbro Latex Trainer Corset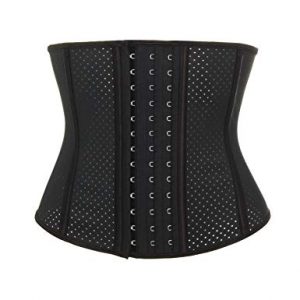 The lttcbro Latex Trainer Corset is steel boned with a breathable mesh style and a sport waist training cincher. It has a nine piece spiral steel bone system, providing greater stiffness for managing the best posture. With its soft plastic bone structure, the device is quick to recover to origin through all movement. The latex material is durable and flexible with an underbust design for unrestricted breathing.
PROS
The mesh design makes this waist trainer breathable.
The cotton lining absorbs sweat and increases the burn of calories.
With its high elastic latex, this corset is perfect for post-partum belly and abdomen support, yoga, jogging and more.
CONS
The product has quickly lost its compression.
The company's size chart is not true.
Overall Value for the Money
The lttcbro Latex Trainer Corset will bring you that much closer to your ideal body dreams. It will instantly give you the slim shape you need to get into a wedding dress or help you lose weight.
What is the Best Waist Cincher?
Waist trainers and cinchers have taken the fashion market by storm. Women everywhere are using them to get a significantly leaner look. The top waist cincher – combined with healthy dieting and exercise – can also help with weight loss.
The best cincher for any person will be based on preference, not necessarily on the superiority of one product over another. A steel boned corset has a greater concentration for support. They are more likely to supply the user with faster, more dynamic results. The trade off is these waist trainers can be uncomfortable to wear.
Another cincher may have a looser feel, allowing longer periods of wear, including during workouts and sleep. It's likely the stronger the application the thicker and heavier the item. This could mean a lumpier, less smooth corset that will be difficult to hide under clothes.
If there is someone to help you, there are devices with the lacing in the back. If you will more likely be putting it on alone, you may be better off with the lacing in the front.
If active – running, Pilates, yoga, in the gym – a good waist trimmer can be beneficial. These corsets provide support and flexibility, and encourage midsection slimming. In this case, you want a cincher designed to work in conjunction with exercise.
There are three basic types of cinchers: latex, corset and ribbon. Consider fabric and material. They will be critical to comfort and results. Latex will maximize results while something with a cotton lining could slow things down. Women allergic to latex may need a blend like nylon and spandex. Styling offers thongs, full torso, breasts enhancers and more. While the best tummy control shapewear reviews lean toward standard belt styles, styles should be chosen based on the criteria covered here.
Sizing can be a pain when it comes to cinchers. Waist training devices can wildly differ in how their sizes fit individual bodies. It's like a t-shirt that's going to look completely different based on a woman's breasts size. Only in the case of cinchers, you end with a product that's too tight and restrictive, or something you can't even get into. Check out the accurate sizing information on sites like Amazon.
A lot of women simply need to start out and see what these devices do. Something like the Squeem "Perfect Waist" Cincher Shapewear is an outstanding way to learn what a cincher can do. It fulfills pretty much every role a cincher could play, including creating a sensual and alluring appearance.
To get your hands on the best waist trainers and cinchers, do your homework (start right here!). Take honest measurements and start off slow with realistic expectations.
You're seeing or hearing about their use with Madonna, Kim and Chloe, Tyra Banks and Jessica Alba. The stores and Internet have exploded with options for them. Go into Instagram and women are flooding images of themselves in the devices. Go to the gym, a Pilates glass or jogging and you'll see someone in them.
We're talking about cinchers. These products are offering all women the opportunity to create a better, leaner figure. But to take it a step further, waist cinchers can help users take inches off their midsection, lose and metabolize fat, release toxins, reduce food intake, and compress and strengthen the core.
The weight loss can be linked directly to a cincher's material. Many are designed from latex which can intensify physical activity. This creates heat and sweating, which leads to burning fat.
It is important that these products be used with caution. Users need to know how to put them on safely and how long to wear them. If they exercise, users need to know the best ways to proceed because exercise can create an increased need for oxygen and corsets can restrict breathing.
In order to maximize success with cinchers, know what they do and know what you want them to do. If you want to apply cinchers to your weight loss regimen, don't expect miracles. While a cincher will help, the job won't get done without exercise and proper diet. A waist trimmer will speed the process though.
Most importantly, don't overdo it. If instructions say you can wear a corset all day, but you develop discomfort after a few hours, don't push it. Take it off for the day or find one that you can wear all day without issue.
"today I was finally able to comfortably hook up my waist band to its tightest. I guess its safe to say that I'm doing something right? #workinprogress #hourglassangel #waisttrining #fitness #gymselfie #motivation #selfie" – @cupinjer
"I plan to use" a "corset as shapewear under dresses since it holds everything in way better than anything already in my arsenal. And I'd absolutely recommend it for anyone trying to improve her posture. As far as using it for weight loss, it's gotta take a lot of commitment to see results (my jeans fit the same way they did at the beginning of the week), but if you're as committed as Jessica Alba, I bet you'd notice a difference." – Zoë Ruderman, Senior Style Editor
"I wore a double corset day and night for three months. It was brutal; it's not for everyone." [It was] "sweaty but worth it." – Jessica Alba, actress
"It is important to research which style is the best for you and your goals. Some products are best for increasing thermal activity in the midsection, and others are best for more traditional waist training." – Ruben Soto, Chief Executive Officer, Founder
"I don't mind wearing a corset, it informs your posture, changes the way you move, you can't slouch." – Michelle Dockery, actress, singer
"The one thing I've come to figure out is this equation where the more uncomfortable I am, the better I'm going to look. I'm like, 'This one really hurts. I must look awesome!' The corsets are uncomfortable, but they are so flattering." – Kristin Bauer van Straten, actress
Corsets give "you that extra curve without any tricks or gimmicks." – PreMadonna, Founder, What's a Waist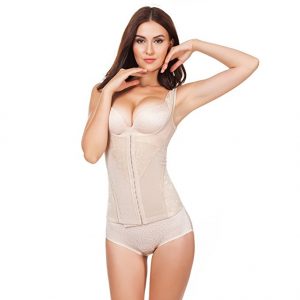 Waist training is essentially about molding the body into a slimmer, hourglass shape. It requires a cincher, or corset, to be worn over the midsection. This device is set to compress portions of the torso, particularly the waist and stomach. Women around the world are swearing by the process. Cinchers are used by women to make themselves look leaner for a special occasion. They are also using them to lose weight.
Corsets are a very different approach to building a better body and do come with some risks. Women have been known to pass out from wearing them too long. Others have hurt themselves as they don't seriously consider the purpose of the device. That's to compress portions of the body. This has led to fractured ribs, lung damage and respiratory issues. These are the direct result of users pushing these products and themselves beyond necessary limits.
Celebrities as diverse as Kim Kardashian to Jessica Alba have spoken of the great results they've gotten from utilizing the best shapewear. But they do so with preparation and moderation. Anyone hoping to get their size 16 body into a size eight outfit in two weeks using a clincher is taking a huge risk. While top waist cincher reviews can pump up capabilities, consumers have to be smart and realistic. There is no denying the results as you can find happy users everywhere, but careful research of the benefits and risks is a must.
If you're hitting the gym, ladies, you may as well put on a cincher corset to maximize results. It will certainly help with form, as well as be a tremendous aid in weight loss and strengthening the core. If you're looking at an upcoming family event, class reunion or wedding and want to look great in your new dress, there's nothing like a waist training cincher to get 'er done. Women have put one of the best waist cinchers on and saw inches wash away immediately. They stood in front of that mirror and found themselves curvier and leaner instantly!
We're big proponents of waist training and its benefits. And we're not the only ones. If you've gone through out the reviews, articles and advice, you've discovered a round of experts and celebrities who endorse the use of waist cinchers as quick body fixes and as weight loss resources. What we all have in common about cinchers is the desire to educate. Everyone needs to know how to use these devices smartly in order to avoid injury and to help every lady get the dreamy curves she wants, even if it's just for a few hours.
If it's time to join the world of waist training and cinchers, let us walk you through the selection process. These corsets are not for everyone, but millions of women have found them to be perfect for their needs. You may join them, but first you have to find the top waist cincher.
That's where we come in.