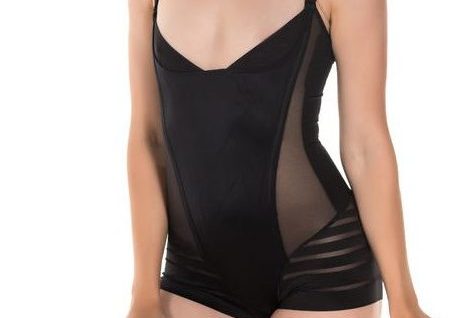 The best body shapers can take 10 pounds off your look. Its use has been described as using Photoshop in the real world or putting an iron to your frame and smoothing out the lumps.
Like any garment, you have to choose correctly based on a range of criteria. Body types, styles, fabrics, outfits and even the way you walk will all play a part. The wrong size – especially a smaller size – can completely defeat the best tummy shapers' purpose. Wearing the wrong one will be discomforting and highlight the bulges you don't want anyone to see.
Our body shaper reviews will be instrumental in helping you find what you need to get that look you want.
Guide for Choosing The Best Body Shaper Clothes
Anyone who has ever tried body shaping clothes has been pleasantly surprised. They can do wonders for giving you a sleeker and slimmer look whether you're wearing a professional suit, cocktail dress or jeans. But this is only if you wear them appropriately.
To Start
Our body shapewear reviews are going to help you avoid the problems of wearing the wrong shapewear. Too large a size and you get no impact. Too tight and you not only push fat to the wrong places, you risk ill effects. For instance, women who had tried too hard to look slimmer with the wrong size couldn't hold food down and often regurgitated it. Others have felt ill like they'd contracted food poisoning.
Our adviser, physical therapist, and expert in the best body shapers and waist training, Jennifer, says, "When they first starting selling shapewear, they really hadn't come up with a reasonable sizing. They were way too small and tight. The design just sort of pushed the bulges around. Women were so uncomfortable. Many couldn't wear them all night or got sick."
Today the fashion is greatly improved, but the wearer still has to be smart about it. There are even categories. "You can go light or ultra," Jennifer says. "Create the shape you want. We can choose a product that targets the butt, thighs, tummy or a combination. You can choose the best shapewear for what you want to do. And that's good. Not everybody should want the exact same shape, let alone could."

Build a Wardrobe
Shapewear is actually a term for different types of clothing, most of which we're all familiar with. They include:
Slip dresses
Unique panties
Tights
Body suits with chest cut-outs
Mid-thigh shapers
Girdles
The Fit
Before you buy any type of shapewear, Jennifer thinks women should go into a shop and try a few pieces on. For sanitary purposes, wear underwear and a t-shirt. If your goal is to use it with a specific outfit, bring it with you. Be realistic and not aim for perfection. Get a waist and hip measurement and go looking for shapewear that smooths out lumps in the outfit. Look to achieve a sleeker, slender silhouette. You don't necessarily want to look skinny, but attractively smoother.
You can also take a look at our best body shaper reviews and find customer reviews to see what others have experienced with body shaping clothes.
Be Practical
Jennifer warns against going down a size or two (you know we do it, ladies) in hopes of a better look. It won't help. The wrong shapewear will only make you look bigger and will be extremely uncomfortably. It can also lead to a load of problems. An adviser for "Consumer Reports" warns any and all types of constricting garments can compress organs and nerves. Patients who spend too much time in tight clothing have experienced numbness and tingling in regions like the thighs, stomach, hips and knees. The cause has been linked to restrictive clothing, including shapewear.

You Can Make Them Part of Everyday Wear
According to Jennifer, you can use shapewear every day. "But," she warns, "you should be aware all shapewear doesn't work with every outfit. A shapewear that's kick-ass with that new dress may not work when you slip into a blouse and skinny jeans."
Comfort is Critical
If you are going to make shapewear a part of daily wear, you have to make sure that you're comfortable all the time. Our adviser says in the beginning even she made horrible mistakes. "I'd wear products that I could barely move in. It hurt to sit down. There were times I wouldn't go to the bathroom because I couldn't get out of the damned thing."
Doctors advise anyone subject to UTIs, GI or yeast infections, should not wear shapeware on a daily basis.

Pregnancy
Check with your GYN before you wear any type of maternity shapewear or other restrictive clothing. It might make you feel better about the way you look, but you shouldn't ignore the fact that with baby you're supposed to be getting bigger. Shapewear can help with varicose veins, but they have to be comfortable, supporting and lifting the uterus, helping to ease some of the pain that can come when the pelvis is misaligned.

Conclusion
Jennifer says to take care while trying to establish what is the best body shaper. "If you have no butt, a shaper will make it look flatter. Unless you don't care, find a better style. And always sit down when you're testing. You want to make sure they don't show."
The Best Body Shapers: Reviewing The Best Shapewear
Best Shapewear for Tummy and Stomach Areas
SHAPERQUEEN 102 Women WaisFt Cincher Girdle
The SHAPERQUEEN 102 Women Waist Cincher Girdle is the best tummy shaper for getting a slimmer and sexier waist fast. The device offers a sleek and alluring design alongside it's full torso compression. Its light boning enhances not just the appearance under clothes, but will be instrumental in the improvement of posture. The product will leave no unwanted panty lines while giving the buttocks an attractive touch.
Made of a quality, plush and breathable material, expect comfort under any type of clothes. This is a best body slimmer with a design for targeted firm control.
PROS
You will get ideal shaping as this product manages the body's trouble areas.
The sexy thong design creates a great look, even by itself.
The engineering prevents roll down, keeping it in place with no need for continuous pull or adjustment.
This is an excellent option for post-pregnancy, offering the support abs may need to get back in shape.
Customers have found this best Spanx for the tummy to be capable of rolling down.
CONS
The boning has been said to dig into skin.
The product's sizing is not true.
What We Think
The SHAPERQUEEN 102 Women Waist Cincher Girdle offers great overall support in all the right areas. As best shapewear for the tummy, it leaves no unpleasant panty line and is super light under any outfit and won't feel like another layer.
Miraclesuit Extra Firm Control High-Waist Brief
The Miraclesuit Extra Firm Control High-Waist Brief is a high waist brief that offers extra firm control. One of the best shapewear for the tummy, rear and midriff, the device has a cotton panel, a triple layer front with extra control and a silicone, stay put design that prevents rolling and ride-up. The proprietary Miraclesuit engineering creates a smooth appearance, promising no visible panty line.
PROS
Providing full overall contouring, this body shaper offers extra firm control.
The product is true to size and promises quality compression.
Doctors have recommended this product to post-tummy tuck patients for safe and reliable compression.
CONS
This product does not loosen as most shapewear can.
Users have found the product uncomfortable after a long period of wear.
What We Think
This best cheap shapewear fills you with confidence. Our body shaper reviews reveal the Miraclesuit Extra Firm Control High-Waist Brief will do wonders with your muffin top and spare tire, enhancing everything perfectly in both summer dresses and skinny jeans.
Maidenform Flexees Women's Shapewear Hi-Waist Brief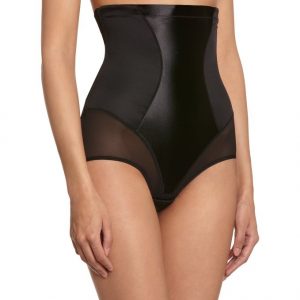 With its high waist design, the Maidenform Flexees Women's Shapewear Hi-Waist Brief extends smoothing and provides maximum comfort. It has targeted control to help shape the midsection and a low friction finish that will be instrumental in minimizing static cling. The design tackles issues in the waist at all angles.
PROS
Maidenform shapewear products are designed for solid fits but with a low friction finish for ease getting in and out of.
The firm control system creates smoother lines around the tummy, hips and buttocks.
The high waist design on this best shapewear for the stomach offers extended all around slimming and smoothing.
CONS
User have found the front panel shows right through certain materials.
The device creates visible panty lines.
It would appear the sizing is not true.
What We Think
The Maidenform Flexees Women's Shapewear Hi-Waist Brief delivers as exemplary shapewear for the stomach, hips and derriere. Clothes will glide across the garment and provide the firm control you need to look slimmer. As best body slimmers go, the Maidenform Flexees Women's Shapewear is top of the line and perfect for everyday and formal wear.
Maidenform Flexees Women's Easy Up Firm Control Thigh Slimmer
The Maidenform Flexees Women's Easy Up Firm Control Thigh Slimmer uses an easy up-easy down design and fabric for minimizing difficulty getting into, a common complaint of much shapewear. The Flexees Thigh Slimmer is constructed from Lycra Elastane, a high density fabric with a low friction finish. For best performance, this is a hand wash only garment. Use warm water, non-chlorine beach, line drying and no ironing.
PROS
With its anti-static and anti-cling design, clothes will glide easily over this shapewear.
For maximizing control in one of the body's most difficult areas, the device has a "dead stop" engineering tummy panel.
Comfortable and soft, this Maidenform product will keep you looking slim day in and out.
CONS
The bands around the thighs have a tendency of being tight and leaving unwanted bulges.
This is not an option for a woman in the 2X plus range.
This product has been known to significantly roll.
What We Think
You're going to love the impact this best Spanx for tummy control will have on your appearance. Throughout our best tummy control shapewear reviews, we kept coming back to the Maidenform Flexees Women's Easy Up Firm Control Thigh Slimmer.
Christian Siriano New York High Waist Boy Shorts / Shapewear for Women
The Christian Siriano New York High Waist Boy Shorts / Shapewear for Women is going to effectively put away muffin tops. It belongs on any list of the best slimming undergarments. The shapewear's designed with breathable fabrics and reliable materials. The device slims the waist and provides the buttocks with a nice lift. The design comes from Christian Siriano, a major name in fashion.
PROS
This shapewear was designed with a high quality nylon spandex that won't run or tear easily.
The shapewear was developed to perfectly distribute imperfections, leaving nothing but smooth lines that complement even fitted clothing.
Its high waist enhances the midsection and gives the buttocks a noticeably impressive line.
The device will not restrict breathing.
What We Think
We'll go ahead and call the Christian Siriano New York High Waist Boy Shorts / Shapewear for Women the best body shaper for muffin tops. We believe women will appreciate every feature and how they impact appearance.
Khaya Women's Shapewear
The Khaya Women's Shapewear is a tank top camisole with outstanding design for tummy and waist control. Simply roll the product and step into the shape. Pull it up slowly to your appropriate height while smoothing bulges. Adjust to fitting and comfort.
Designed for wear with your own bra, this product impressively flattens the torso, leaving you looking pounds lighter. The fabric is breathable, meaning it won't add to your layers in warmer months and will provide an extra layer of comfort in the cold. It is also an excellent option for anyone that wants a discreet product to help with posture.
PROS
This best camisole shapewear is an exceptional shaping tool and manages to remain non-intrusive.
Women have found this device so comfortable they've forgotten they were wearing it.
With breathable fabric, this is an all-year round option for a slimmer and more attractive look in your clothes.
Like the best shapeware, the Khaya camisole tank top is easy to adjust and won't require a lot of pulling and tugging.
CONS
The camisole shapewear has no options for plus sized women in the 3X-5X range.
Customers have referred to the device as more of a jiggle holder than an application for creating smooth lines.
What We Think
These are the most reliable and best Spanx shapewear compared to other products in its price range.
SPANX Trust Your Thinstincts Tank
The SPANX Trust Your Thinstincts Tank smooths hips and tummies, giving women of all sizes a slim, stay put fit. Produced from a non-compressing bust material, this is the best tummy control shaper we want to find among our shapewear for women reviews. The solution has a scoop neck and a X-back.
PROS
Unlike similar products, these Spanx have provided a comfortable, true fit for all sizes.
This shapewear has been noted for smoothing without much adjustment.
CONS
Some users have found this item to be a little too uncomfortable.
What We Think
These are the best Spanx to buy for slimming. They are affordable and provide full coverage. It holds things in without being tight or uncomfortable.
Best Full Body Shapewear
Bali Women's Lace 'N Smooth Body Briefer Shapewear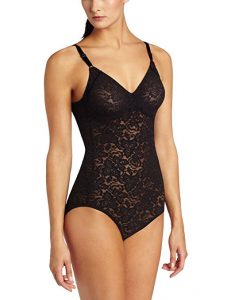 The Bali Women's Lace 'N Smooth Body Briefer Shapewear is a smart move for any lady looking for the best body shaper. It's design is a breathable stretch lace that promises complete firm control. For additional shapely support, there are softly lined underwire cups, as well as hook and eye closures, and a no-lines bottom.
PROS
The smoothing lace guarantees breathable comfort.
The Lyrca Beauty fabric promises an exemplary shape that will not constrict movement.
The product has lined seamless cups that add coverage and support.
CONS
There has been some issue with the fit being skintight in some areas and loose in others, creating some sag.
The fabric has been known to tear while trying to put the shapewear on.
This device has been called inadequate for petite women.
What Jennifer Thinks
I'm going to just go ahead and call it: the best shapewear for dresses. I like the way it felt regardless of what I wore, but it really felt wonderful under a dress. I also have to tell you, I love that the Bali Women's Lace 'N Smooth Body Briefer Shapewear is sexy without clothes!
SPANX Open Bust Bodysuit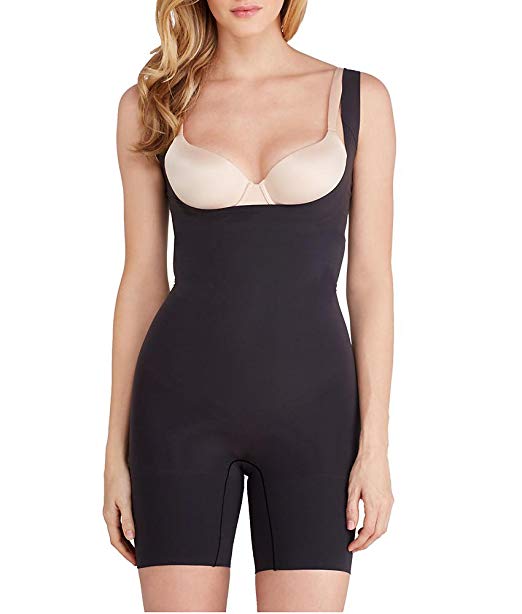 Take firm control of those trouble mid-thigh body areas with the SPANX Open Bust Bodysuit. It's one of the best body shapers with a cotton gusset and double lined opening. Expect a firmer tummy, thighs, hips and rear alongside outstanding comfort thanks to a stretch microfiber design. This best Spanx for tummy control has seamless yarning for targeted zone compression.
PROS
This mid-thigh body briefer is engineered for extreme and firm control.
The solution promises a comforting fit with its satin trim and stretch microfiber production.
Thanks to seamless yarns, there are targeted zones for enhanced compression.
CONS
Some users have found this item to be too bulky under their clothes.
Users have said wearing this sparewear, with its small opening, makes using the bathroom difficult.
What Jennifer Thinks
I think I would've been off with a larger size. I'm not thrilled with the control, but the SPANX Open Bust Bodysuit does smooth well. There were no lines, even under the tightest fabric. I wore them with pantyhose and had no problems with sliding.
Vedette 139 Women's Alyssa Braless Full Bodysuit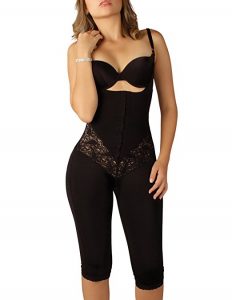 The Vedette 139 Women's Alyssa Braless Full Bodysuit is one of the best body shapers for the tummy. It visually slims the stomach, back, waist, thighs, hips and your bottom. The Vedette 139 has hook and eye front closures, adjustable straps for that perfect fit and an open crotch to eliminate the stress of using the bathroom, a common issue with even the best tummy shaper.
PROS
This full body shaper comfortably slims a range of trouble areas.
The garment has convenient lace floral and elastic trim accents to maximize comfort.
It features adjustable straps and a braless design to ensure support.
CONS
There have been complaints the material is too thick and makes this shapewear difficult to wear with jeans.
What Jennifer Thinks
I've been wearing full body suits for years. Several Vedette 139 Women's Alyssa Braless Full Bodysuits are already part of my wardrobe rotation. Do I need to say more?
Aibrou Women's Full Body Shapewear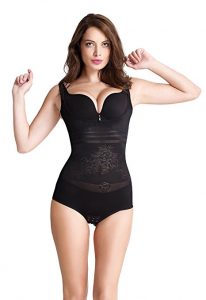 The Aibrou Women's Full Body Shapewear will bring you closer to an hourglass figure. It's designed of control fabric that can be worn every day. This shaper will give all your outfits a slimming boost. The Wear Your Best Bra feature offers flexibility. The Aibrou Women's Full Body Shapewear is one of the best Spanx for dresses with its 360 degrees of firm control.
PROS
The engineering of this product offers 360 degrees of waist, tummy and hip trimming.
The front U style design promises an immediate lift to the bosom.
With the adjustable and stretchable shoulder straps and breathable material, expect a comfortable and reliable fit.
CONS
Disappointed users have complained this shapewear offers no real support for the stomach.
What Jennifer Thinks
I believe you could wear this daily with just about anything. I had a friend review this body briefer as well. She thought the Aibrou Women's Full Body Shapewear was comfortable, didn't dig into her shoulders and controlled her midsection without pushing it up.
SPANX Women's Thinstincts Bodysuit
SPANX is a leader in all forms of shapewear for women. The SPANX Women's Thinstincts Bodysuit proves this with its quality features for smoothing and flattening the midsection. Unsightly lines are eliminated by the shapewear's seamless leg openings. It also has a Jersey-lined hook and eye gusset, and adjustable shoulder straps.
PROS
Sleek and comfortable, this SPANX bodysuit will impressively manage your midsection.
Easy to wear, the Thinstincts offers light to medium support.
CONS
This shapewear may not be the answer for anyone that needs real compression.
Women of average weight don't find this device to be sufficiently smoothing.
What Jennifer Thinks
This one is well up there with the best SPANX for the stomach. Between the SPANX Women's Thinstincts Bodysuit and the SPANX Oncore, you're going to get all the support you need for creating slimmer appearances. You'll have the best SPANX for the tummy at an extremely affordable price.
Women Tummy Control Full Body Bodysuit
The Women Tummy Control Full Body Bodysuit will shapes and slims the frame and can be used as an alternative to panties. It provides the best tummy control, maximizing appearance and the sleekness of every outfit you'll ever wear. Constructed of a silken fabric, this device will seamlessly give your body a luxurious allure. With its open bust, wear your own bra.
PROS
This is a basic garment designed from exceptional materials that can be added to any daily wardrobe.
The compression bodysuit has an open gusset thong and buttons to ensure easy access when you need to use the bathroom.
Adjustable shoulder straps allow for the fit you need.
CONS
Users have complained saying this device has "firm compression" is something of a stretch.
What Jennifer Thinks
I recommended this one to my daughter-in-law after she had her second kid. She was struggling to hide her belly. She still thinks the Women Tummy Control Full Body Bodysuit is the best shapewear out there. She loved it for the superb comfort and confidence it gave her.
Supplim Women's Body Shaper Corset Bodysuit Shapewear
The Supplim Women's Body Shaper Corset Bodysuit Shapewear is a one piece bodysuit that slims the waist, back and hips. It has special lace trim and lets you wear your own bra for added support and flexibility. The corset's design allows for wear with form fitting skirts, dresses and a favorite pair of jeans. Use the corset bodysuit to emphasize natural curves.
PROS
Shape the hips, rear and thighs to accent all your natural curves.
It has a breathable and comforting shell design with a 360 degree range of firm control.
The open crotch functionality makes going to the bathroom easy.
CONS
The device has actually burst at the seams or split at the crotch.
This is not an option for plus sized women.
What Jennifer Thinks
With coverage for the rear end and mid-thigh, the Supplim Women's Body Shaper Corset Bodysuit Shapewear is one of the best full body shapers we've encountered. We heard about some issues with ripping, but that's more likely because the wearer was in the wrong size. Otherwise, this device is worth the investment.
Best Shapewear for Your Legs
Best All-Around Slimming Leggings
SPANX Active Women's Shaping Compression Knee Pant Black Pants
The SPANX brand consistently produces the best body shaping leggings. The SPANX Active Women's Shaping Compression Knee Pant Black Pants has a moisture wicking microfiber stretch design. They provide an exceptional and flattering silhouette. They can be worn with outfits or used for Pilates, Zumba, running and time at the gym.
PROS
You can enhance your workouts in these medium control leggings.
These SPANX are great for giving your lower body an ultra-flattering silhouette.
Designed from cotton, spandex and nylon, this product is machine washable.
CONS
 It has been said these leggings were designed for specific body types – apple – and will be of no use to any other type.
Overall Value for the Money
This conforming clothing doesn't ride down. They're light and loose where they need to be and won't leave dig marks. You couldn't spend your money on a better product.
Best Bodysuit with Rear Lift
Leonisa Invisible Bodysuit Shaper with Rear Lift
The Leonisa Invisible Bodysuit Shaper with Rear Lift covers tummy to ankle, offering a range of compression levels for shaping the entire body. It uses SkinFuse garments that promise a luxurious and seamless operation.
PROS
The SkinFuse tech creates an invisible look.
The manufacturer is world renowned and has sold over 40 million products.
CONS
The garment has been said to cut into smaller calves.
Overall Value for the Money
The Leonisa Invisible Bodysuit Shaper with Rear Lift has braless design, rear enhancement and a high waist design. These are great Spanx leggings for controlling the entire back, stomach, waist, legs and thighs. They will make for an excellent addition to your wardrobe.. They're light and loose where they need to be and won't leave dig marks. You couldn't spend your money on a better product.
Best Body Shaping Leggings
SEJORA Fleece Lined Leggings w/ High Waist Compression Tights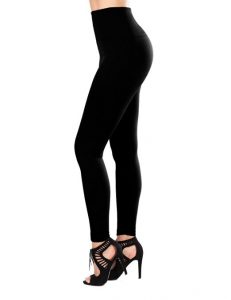 The SEJORA Fleece Lined Leggings w/ High Waist Compression Tights provides the comfortable coverage you want from the best body shaping leggings. It hides rolls and presents an elongated look through tapered legging.
PROS
With a warm, opaque design, these slimming leggings will be perfect for form fitting tops.
Pair off the fleece lined leggings with a Sejora top for a stylish outfit.
CONS
The crotch has worn out quickly.
Some have complained there is no fleece lining.
Overall Value for the Money
Unlike a lot of women's products and shapewear, the "one size fits all" does seem to apply here. We are a little disappointed in the lack of compression, but we appreciate the way it clings and creates curves.
Best Body Shaping Tights
No Nonsense Women's Super Opaque Control-Top Tights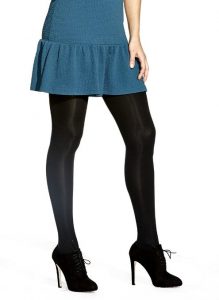 The No Nonsense Women's Super Opaque Control-Top Tights promise added support and a superior performance. It has a mid-rise waistband and an opaque shaped legging that ensures comfort throughout the lower portion of the body.
PROS
These devices have shown durability, outlasting comparable products.
If you have bigger thighs, these leggings are excellent to avoid chafing.
CONS
Users have complained the control top is too tight.
These leggings have caused discomfort after a few hours of wear.
Overall Value for the Money
We like this one. The fabric has a silky touch and is really comfortable. The control top isn't necessarily as tight as we'd prefer, but they're not flimsy. We'd buy a second pair without hesitation.
Best Pantyhose Shapewear
Alice & Belle Women's Control Top Pantyhose
With its sexy and silky feel, the Alice & Belle Women's Control Top Pantyhose is durable and its ultra-smooth design promises maximum comfort. It has a control top that contours the tummy, hips and back, producing a slimmer and impressive look.
PROS
The fabric is silky smooth against the skin, offering a sleek and sexy feel.
The control top creates an optically slimming effect.
The durable construction minimizes tears and rips that threaten typical leggings.
CONS
Despite advertising to the contrary, these leggings have torn as early as the first attempt to wear.
Overall Value for the Money
The product is a bit thin, but it is comfortable and seems true to size. These will be the best Spanx leggings for the cost, but we do advise you keep multiple pairs.
Shaping Bras
SPANX Pillow Cup Signature Push-Up Plunge Bra
The SPANX Pillow Cup Signature Push-Up Plunge Bra has dig free adjustable straps. It'll keep you comfortable and sexy. The cups are designed to provide both support and freedom with hook and eye closures.
PROS
The bra has an underwire carriage, dig free adjustable straps and cups developed for fine shaping.
CONS
The straps may not tighten sufficiently.
Overall Value for the Money
SPANX continues to impress with the quality of its products. This push up is durable, affordable and looks great.
Unilove Strapless Bra Push up
With the Unilove Strapless Bra Push up, you get steel ring support that creates an alluring cleavage effect, improving shape and curving. Soft and delicate, cups are attached directly to skin and leave no trace upon removal.
PROS
The self-adhesive cups do not fall off easily.
The deep design improves the look of your breasts.
CONS
It has been said the bra has weak viscosity.
Overall Value for the Money
The Unilove Strapless Bra Push up definitely makes the breasts look more voluptuous, managing support and appearance, and eliminating straps for formal wear.
Best Maternity Support Shapewear
Belevation Women's Maternity Shapewear Mid-Thigh Pettipant
A seamless blend of spandex and nylon, the Belevation Women's Maternity Shapewear Mid-Thigh Pettipant is going to be one of the best tummy flattening shapewear you come across. The shapewear provides a relaxing, comfortable fit and gentle support. Its perfect for dresses and prevents chafing between the thighs. With a light, safe compression, they provide varicose vein relief in unison with compression socks and tights, and maternity support belts.
PROS
This shapewear is of discreet design, capable of invisibility even under short dresses during winds.
Very supportive, the product has light compression and – with other devices – can help with varicose veins.
The design is flexible, preventing chafing and itching between the thighs.
The waist band can reach the bra line, ensuring no roll in the midsection.
CONS
Customers have found this device longer than the typical dress.
It has been said this shapewear has no compression.
Overall Value for the Money
This is one of the best tummy body shapers for the expectant mother. With its comfortable fit, this shapeware is a sound way for the pregnant woman to manage her appearance, help carry the extra weight and combat varicose veins safely.
SlimMe Motherhood Maternity Girdle & Pregnancy Thigh Shaper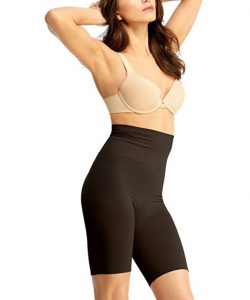 The SlimMe Motherhood Maternity Girdle & Pregnancy Thigh Shaper is mid-thigh shapewear. It has support for tummy control as well as features for smoothing hips, thighs and buttocks. The device offers underbelly and lower back support for the expectant mother dealing with carrying significant weight. The product offers thigh shapewear closure, a cotton gusset flap for quick access in the bathroom and no visible panty lines. It promises the unique care and support the pregnant woman should expect from the best tummy control shaper.
PROS
The manufacturer's maternity series offers targeted care and supportive shapewear throughout the nine month pregnancy cycle.
This device reduces the symptoms of back pain and pressure on the stomach.
The cotton gusset flat provides ease-of-use in the bathroom.
There will be no sign that you're wearing the girdle.
CONS
The size chart does not appear to be true.
Customer service has been reported to be unresponsive.
Overall Value for the Money
This is a solid option for midsection support during a pregnancy. It smooths sufficiently, but you will have to be weary of sizing. The company loses a few points for its poor customer service, but the device still manages to make the list of best tummy shapewear by delivering needed underbelly support and for being an excellent preventative back pain application.
BONUS PRODUCT:
The Marvella Maternity & Nursing Women's Plunge Bra
With its gentle construction, the Marvella Maternity & Nursing Women's Plunge Bra has a racer back design. It ensures comfort, style and has features that let you enjoy motherhood. This bra has a simple one-handed overhead pull feature that eliminates itch, pain and clasping annoyances. The resource is going to be both functional for easy nursing and will give your bosom the sexy look you want. This is a great choice for loose tops and t-shirts.
PROS
The device has sides that fold down, providing one handed access for easy nursing.
There are molded full coverage cups with larger chest bands for gentle support.
The racer back design ensures a smooth and stretchy fit.
The Marvella is available in a range of colors.
CONS
For women with busty post-partum issues, even the largest sizes do not appear to offer comfort or support.
Breasts have slid out of the cup.
Adjusting the bank has been called cumbersome and frustrating.
Overall Value for the Money
Besides its amazing look and the way it shapes the breasts, the Marvella Maternity & Nursing Women's Plunge Bra is buttery soft and won't add bulk to the overworked and sensitive upper torso. It doesn't pinch and the clasps undo quickly with one hand.
What is the Best Body Shaper?
Body shapers are openly used by the likes of Jennifer Garner and Tyra Banks. They praise shapewear for being instrumental in accenting their look. These women and others have wisely and bravely chosen to admit even a woman considered Hollywood beautiful can benefit from a shaper.
The Purpose of Shapers
Body shapers are about far more than hiding defects. They are the most inexpensive way to give your body and clothes a better appearance. Shapewear compliments a successful weight loss or fitness regimen by accenting a slimmer and toned frame. They boost confidence, empowering the wearer with the understanding they look great.
These undergarments aren't automatic. Its impact depends on body size. A person carrying too much weight will not necessarily look thinner. On the other hand, if you have a comfortable weight and want help to look better in clothes, shapewear will be of great benefit, but only if you choose wisely.
What to Do
The best body shaper is going to be one that provides an easy, safe, fast, comfortable and cost effective solution. The first step is a correct fit. Your measurements will be critical. Use a reputable outlet ready to advise you on your options. Take into account that shapewear isn't always true to size. This means what the product says it will fit may be unintentionally misleading. The wrong size can create discomfort and leave strange bumps and lumps.
Manage reasonable expectations for any body shaper. They are not about getting you into clothes that are already too small to begin with. Yes, you want to wear sexy, sleek clothes that accent your frame in all the right places, but putting a shaper on a size 12 body so that it can get into a size eight dress is not going to be a good look. Even if you succeed, you won't enjoy the event as you'll struggle to move and it will probably hurt to smile and be dangerous to sit down.
It's advised you get out and try on a few products with special outfits and with clothes you wear on a regular basis. Don't just check out how flat your tummy is or how great your butt looks. Movement has to be as important as the appearance. Sit, bend over and squat (the ultimate test of maneuverability). You should be able to do so without winching or seeing unwanted rolling or bulging.
Conclusion
If you want to explore the world of shapewear, this is a good place to start. Full body options are a great way to see how shapewear smooths and creates beautiful curves. Once you have an idea of shapewear's utility, you'll be ready to see what's available in leggings, midsections, slips and more.
Overall, you want shapewear that's comfortable and breathable. You want as much control as possible and, ideally, you want shapewear that's not obvious. That means no lines or clasps poking under your outfit. If you cannot hide the shapewear easily, it has failed to do its job.
Wanda Robinson has a doctorate in physical therapy. She has run and advised on a number of physical fitness programs for pregnant women and their partners.
Should I Just Buy A Corset/Cincher?
Corsets and cinchers go way back. There was a time when every respectable woman wore one. Throughout the 20th century, they became something of a necessary secret as women weren't interested in letting people know they used aids to create their figure. Today, with celebrities like Kim Kardashian openly using corsets, these solutions have become fashionable.
While corsets can be instrumental in waist training and creating a hourglass shape, they can also be extremely uncomfortable. They are aggressive, known to create shallow breathing and restrictive movement. Users have been bruised and experienced downward pressure on the pelvic floor. Corsets were also originally worn when clothing styles were extremely different. With today's fashion, corsets can be difficult to hide.
Like corsets and cinchers, shapewear is designed to compress those unflattering parts of the body. Unlike a corset, shapewear can be worn comfortably with anything. Its design is thinner and easier to hide. Shapewear is known for benefits in waist training and posture correction. Women are using shapewear throughout their daily activities.
If you're curious about corsets, some of the best shapewear has a corset-influenced design. Supplim has a bodysuit with a corset-inspired manufacture but with greater flexibility and comfort. With options like this, you can have the advantages of the best shapewear and a corset/cincher. Shapewear will be more comfortable and greatly minimize the disadvantages of a corset or cincher.
While you want the right fit and features, often getting to the best shapewear will boil down to the manufacturer. Knowing a brand breeds consumer confidence if the same name keeps cropping up in the best shapewear reviews. For your consideration, here are three leaders in the industry that greatly enhance the possibility you'll buy a product that suits your purposes in every way.
SPANX
SPANX produces a broad range of shapewear. The company's founder planted the seed for her company once upon a time after she took a pair of scissors and created a pair of control top pantyhose for herself. Today, SPANX stores can be found in over 50 countries, as well as on major online retailers like Amazon. Whether you need shaping panties, mid-thigh shorts or tanks, expect a solution that's highly regarded and impressive.
Maidenform
From sexy and smooth to practical applications, Maidenform shapewear offers a wide variety of options in bras, underwear and support. On a daily basis, you can create a sleeker and slimmer frame. Each of their products offers exceptional control and beauty. Finding a distinct balance between comfort and effectiveness, the Maidenform line of shapewear works magic on smoothing out your silhouette. The company produces the lightest and most durable garments. Their inventory is perfect for form-fitting dresses, skirts and pants.
While there are a range of other reputable vendors that strive to create affordable and practical products, these are the top three brands for the best body shapers on the market. If you start with one of these manufacturers, you're guaranteed to be satisfied with the investment.
Bali
Regardless of where you need control, Bali has the shapewear that will solve your problem. Bali is one of the most renowned designers of shapewear in its industry, providing devices that strengthen confidence in stylish fashion. From tummy controlling panties to lace bodysuits, Bali can make you look up to 10 pounds lighter with their well-developed shapewear. No unwanted bumps of flesh at the bra line. Kill the muffin top and take your outfit to the next level.
We asked Jennifer Collins, our adviser in all things shapewear, to field some common questions about shapewear and their use.
I've heard a lot of hype, but does shapewear really work?
Positively. We know women who have worn corsets and suffered when shapewear can do the job much better. Shapewear shaves off inches and makes you look pounds lighter. The result is an appealing frame in all your clothes. Shapewear streamlines your waist, banishes muffin tops and love handles, and can even put oomph in your buttocks.
If I want the best results should I buy shapewear in smaller sizes?
This is an a big NO. While there will be instances where you have to do this, you should do everything in your power to buy to size. Avoid smaller sizes. They can be uncomfortable. They will cause ripples and bulges and you're less likely to have smooth lines.
Can skinny women benefit from shapewear?
Shapewear is not for gals dealing with a condition. It's about creating a better look in your outfits. For instance, anyone can benefit from Spanx. Anyone can have unsightly bumps and lumps that can show up in a fitted dress even if you're not a thick girl. A small butt can benefit from a little shaping and lifting.
Corsets are famous for changing shapes. Can shapewear do the same?
Shapewear can improve the parts you're not keen on, but I would honestly say not as drastically as a corset might. But shapewear and corsets alone cannot be depended on. You also need exercise and good nutrition. Anyone that's been convinced a piece of clothing can help them lose weight by itself is looking for a miracle that doesn't exist!
Going through our shapewear material, I hope you didn't just get information, but that you enjoyed it.
Waist trainers have become acceptable resources for improving a woman's shape. Gone are the days when shapewear was a dirty little secret. The comfort shapewear offers has never been better. Women are wearing them in and outside their clothing. Women are shopping, hitting the gym and jogging in them. More and more of these devices are sexy and sensual to the eye. Lift the breasts, tighten the buttocks, putting away those muffin tops, it's all possible with shapewear.
I like to think every woman should do what they can to feel good about the way they look. That's why I agreed to do this. These body shaper reviews and the articles were designed to educate you on everything from full body girdles to mid-thigh Spanx. I want every mother-to-be to be prepared for posture and back issues, and how shapewear is a strong preventative measure.
Between showing you the best body shapers, to which brands stand out, and all the pros and cons, we've done our best to produce honest assessments. I want to stress that regardless of any opinions expressed here, only use them to inform your decisions, not make them. Ultimately, choosing your shapewear should be based on your personal needs and budget, not any single opinion. Look around, read customer reviews, check out the products at Amazon and whatever decision you make, whatever product you buy, let it be the one that makes you feel beautiful.